The Critical Perspectives series aims to bring the analytical insights of scholars, theorists, and critics working in literary and cultural studies into our English classrooms and broader academic community at UNC Asheville. A complement to our Visiting Writers series, Critical Perspectives draws no hard line between "creative" and "critical" work but gives focus to speakers who model contemporary modes of analysis in literary fields. Series topics correspond with and enrich current classes offered by English faculty, and collectively range across various approaches and subjects (historical, cultural, theoretical, formal) in contemporary literary studies.
To be kept informed of upcoming events, please subscribe to our mailing list.
Spring 2023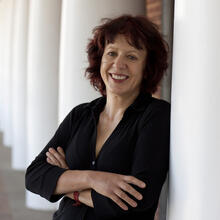 Rita Felski: "On Resonance"
Thursday, March 23 at 7:00 pm, via Zoom
Rita Felski, the John Stewart Bryan Professor of English at the University of Virginia, will present a lecture, "On Resonance," at 7:00 p.m. on Thursday, March 23, via Zoom.
Could the idea of resonance offer another slant on what's defended, though also derided, as a "love of literature," while also clarifying how critical theory can animate and captivate? Felski's talk draws out affinities between the ideas of sociologist Hartmut Rosa and two novels—Stoner, by John Williams, and Theory, by Dionne Brand—that capture moments when words reverberate and come alive, portraying the transformative aspects of intellectual life as well as the alienating aspects of academic institutions.
Registration for this event is now closed.
Elaine Auyoung: "Literary Study and Learning to Notice"
Tuesday, April 4 at 7:00 pm, in Karpen Hall's Laurel Forum
Elaine Auyoung, associate professor of English at University of Minnesota College of Liberal Arts, will present a lecture, "Literary Study and Learning to Notice," at 7 p.m. on Tuesday, April 4 in UNC Asheville's Laurel Forum, Karpen Hall.
Auyoung is the author of When Fiction Feels Real, which examines the relationship between novelistic technique and literary experience. She is working on two other book projects currently.
Her talk will engage psychological research on learning to offer fresh accounts of how literary critics can reduce barriers to learning, of the distinctive forms of knowledge that literature and literary study provide, and of how psychological perspectives can help critics move beyond our disciplinary blind spots.
Past Events